MailChimp is an email marketing service. MailChimp make it easy to send email newsletters to your customers, manage your subscriber lists, and track campaign performance.
It take extremely powerful tools that sophisticated marketers use (like segmentation, a/b testing, and ROI tracking), and it makes them accessible to anyone.
Using MailChimp's open API, its easy to integrate internal systems (like Salesforce) and web applications (like WordPress, Magento and Drupal).
Sign Up to MailChimp using this link: https://mailchimp.com/pricing/entrepreneur/
"If you have 2,000 or fewer subscribers, you can send up to 12,000 emails per month absolutely free. No expiring trial, contract, or credit card required."
So, for FREE Plan we can store upto 2000 mail ids. And can send 12,000 emails per month.
STEP BY STEP PROCESS
1) Create "LIST" in MailChimp
MailChimp's built-in signup forms are easy to customize and share. You can also create forms and collect subscribers on platforms like Facebook, Twitter, and WordPress. And with MailChimp Subscribe, you can collect signups on your tablet at a cash register or when you travel for events.
List: Its Email ids Used to send Newsletter. We can create multiple email Lists. ( We must give Nice Name for List, because it is visible to everyone).
2) Import Emails / Build Mail list
i) Create List with Fields
ii) Add single email ( Manual Updating) / Add Subscriber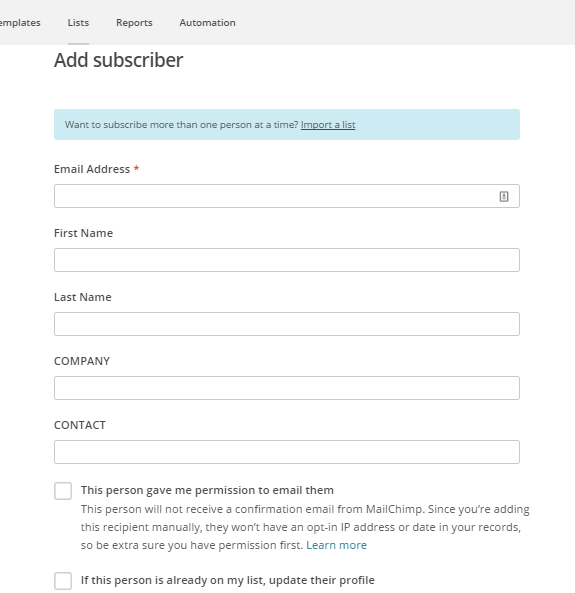 iii) Import Contacts from Google Contacts
Select Import Contacts
Select Integrated Service Option
We can import contacts from our Gmail, Google drive, Zoho etc. Just we need to authorize the process by click Authorize and enter password. MailChimp Automatically imports all contacts.
iv) Import from Excel or CSV
Note: Don't import mails directly from MS-Excel. It will give error. Convert excel file into CSV format
Save file as CSV format in MS-Excel. And you can import that file data directly into mail List.
Select "CSV or tab-delimited text format" in import tab and upload CSV file.
Precautions: We must ensure that total email ids must be less than 2000. If they exceeds the limit, it will automatically change plan and we need to pay.
3) Create Campaigns.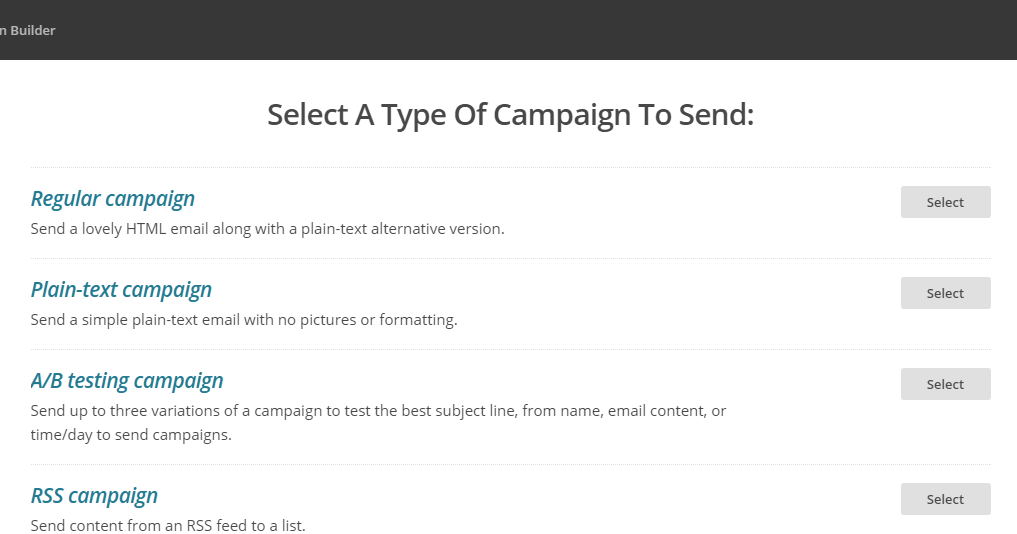 Regular Campaigns : ( Use This ) 
It is used to send Greetings, invitations, offers and newsletter. Select this everytime.
Plain-Text campaign :
Just normal Text emails, no need. Forget it .
A/B testing Campaign :
For Building Marketing strategy and Handling huge brand marketing projects. We can send different emails for same list. Little complicted.
RSS Campaign :
Configuring Blog RSS feeds as Newsletter to Clients. Helpful to engage blog audience. Most used by Bloggers.
4) Select Template & Design
Select "Regular Campaigns"
Select Mail List
Give Campaign Details
Campaign Name, Email Subject, Sender Name & Email Id.
Select Template ( usually 1 column/as per Design)
You can create professional, responsive email newsletters and powerful Facebook Ad Campaigns that match your brand's look and feel. MailChimp's simple interface allows you to create integrated campaigns in just a few easy steps. Just by Drag & Drop you can design your newsletter.
Upload Images, Add buttons, videos, links etc
Note: we can schedule the newsletter in mailchimp.
Free reports and data insight
MailChimp's reports give you lots of information on how your campaigns and automations are performing individually and over time. And with MailChimp Mobile App, you can keep track of your performance from your mobile device.
Automation
MailChimp's enterprise-level marketing automations allow you to provide timely, relevant information for your subscribers. Trigger welcome emails, provide recommendations based on e-commerce and behavioral data, and personalize your campaigns based on your customers' interests.
Recently MailChimp announce Free Automation to everyone. Know more: https://blog.mailchimp.com/announcing-free-marketing-automation-for-everyone/
Get started with your new MailChimp account and Promote your Business.
For Best Cloud Based Email Services for Enterprises and Business : https://www.cloudwards.net/best-cloud-based-email-services/
Have Snacks  🙂